okay, i'm supposed to be studying for my kanji exam next week :( but yeah, i'm convincing myself that this is actually a training... unfortunately it isn't cause the kanjis we're studied are completely different!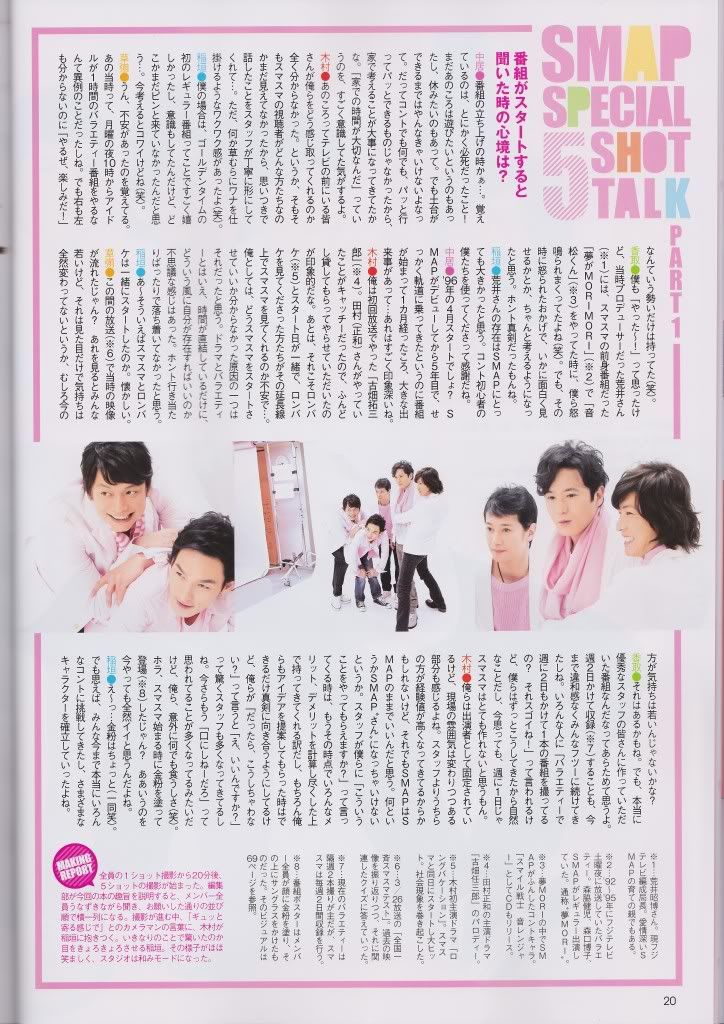 When you heard about the start of show how did you feel?
Nakai:
The beginning of show, huh... What I remember is that we were mostly desperate! At that time, we felt like we wanted to play around and rest as well. But we felt that until we finish the base, we can't stop. Because it's not like you can do skits or anything on a whim, so I guess that thinking at home became important. I have the feeling I was really aware of the fact that "The time you spend at home is really important."
Kimura:
At that time we didn't have any idea how will the people in front of TV, who were watching us would feel. Or rather, because we didn't know at all what kind of people are the viewers of SmaSma yet, the things we suggested and talked about the staff thoroughly made them into shape. But, I had the feeling of setting traps on grassy place (laughs)
Inagaki:
In my case, having the first regular show in golden time made me really happy and aware of it, but I didn't realize it completely I think... Thinking about it now, it's scary (laughs)
Kusanagi:
Yeah, I remember I was unsure. At that time, it was unprecedented that idols would do a one hour long variety show on Mon9. But even though we didn't know right from left, saying "Let's do it! It's gonna be fun!" what an amazing spirit we had (laughs).
Katori:
I felt "We did it~!", but at that time when we were doing "Otomatsu-kun" (1) during antecedent "Yume ga MORI MORI" (2), the producer at that time Murai-san (3) was scolding us a lot (laughs). But thanks for the scolding that time, it was shown more interestingly and we learned to think about things thoroughly, I guess. He was really serious.
Inagaki:
I think Murai-san's existence was big for SMAP. I'm really thankful that sent us, the beginners in skits, on course.
Nakai:
It began in April 1996, right? On 5th year after debut of SMAP, and we finally were riding on the railtrack, after a month of beginning of show, a big incident happened... It was really deeply memorable, right?
Kimura:
I did "Furuhatake Takusaburou" (4) during the first airing. Because the role Tamura (Masakazu)-san did, was really catchy, and it's really memorable how I lent the costume and acted in it. And also, it started on the same day as Long Vacation (5) and I was so unsure about people watching SmaSma as a following extension... As for me, I think it was one of the reasons I didn't know how I should start SmaSma. Saying drama and variety, because the time only was directly connected thinking about how I should exist on the filming site was a strange feeling. I probably wouldn't be able to just go there and back as if it's nothing.
Inagaki:
Ah, that's right, SmaSma and Long Vacation started at the same time. How nostalgic.
Kusanagi:
They showed some videos from those times during the episode last time (6), right? When watching it, everyone was young, but in looks only, the feeling didn't change at all, rather, right now, everyone is young in their thoughts, I guess?
Katori:
It might be true. I was re-assured that we have show made by excellent staffs. Everyone just normally continued until now, with filming two days in a week (7). I was said by a lot of people "You're filming one episode of variety show for two days? It's amazing!", but we always did it like this, so it's completely natural, when I think about it now, we could never make SmaSma in one day filming.
Kimura:
We're fixed as actors there, but you can feel how mood changes in parts of filming site. It might be because the staffs are more experienced than us, even so I think it's okay for SMAP to be like SMAP. How should I put it, we must not become SMAP-"san". When staff brings a plan with words "Could you do this?" at that time they bring it after considering merits and demerits, of course when we propose any idea, they seriously try to fulfill it as much as possible, but when we ask "In that case, wouldn't it be better to do it this way?" lately, there's more staffs who is surprised saying "Eh? Is it okay?" It seems that there's a lot of times that make me think "You wouldn't ask" coming this far, but we actually get hook on anything (laughs). See, we did show up covered in gold (8) when SmaSma started, right? I think it's okay to do something like that even now.
Inagaki:
Eh~... Covered in gold is a bit... (all laughs) But when you think about it, until now, everyone really challenged a lot of skits and established a lot of characters.
(1) In Yume MORI, SMAP originated skit characters they also release CD as "Smile Warrior Oto ranger".
(2) Variety show aired at Fuji TV in Saturday night during 92~95. Moriwaki Kenji, Moriguchi Hiroko and SMAP appeared as regulars. Shortened as "Yume MORI"
(3) Murai Akihiro-san. Current Fuji TV's Composition Office Chief. He's also a devoted up-bringing parent of SMAP.
(4) Parody of drama "Furuhata Genzaburo" with Tamura Masakazu in leading role.
(5) "Long Vacation" - drama with Kimura as a leading actor. A big hit, that started at the same day as SmaSma. It created a lot of social phenomenons.
(6) "The National All At Once SmaSma Test" aired on March 26th. As they showed some past videos, they answered on quiz considering them.
(7) It's usual that present varieties film 2 shows every other week, but SmaSma is filming two days every week.
(8) The poster of show was made with a picture of all members' faces covered in gold on top of that they wore sunglasses. You can check those visuals on page 69.
and a bonus... touchy kim :D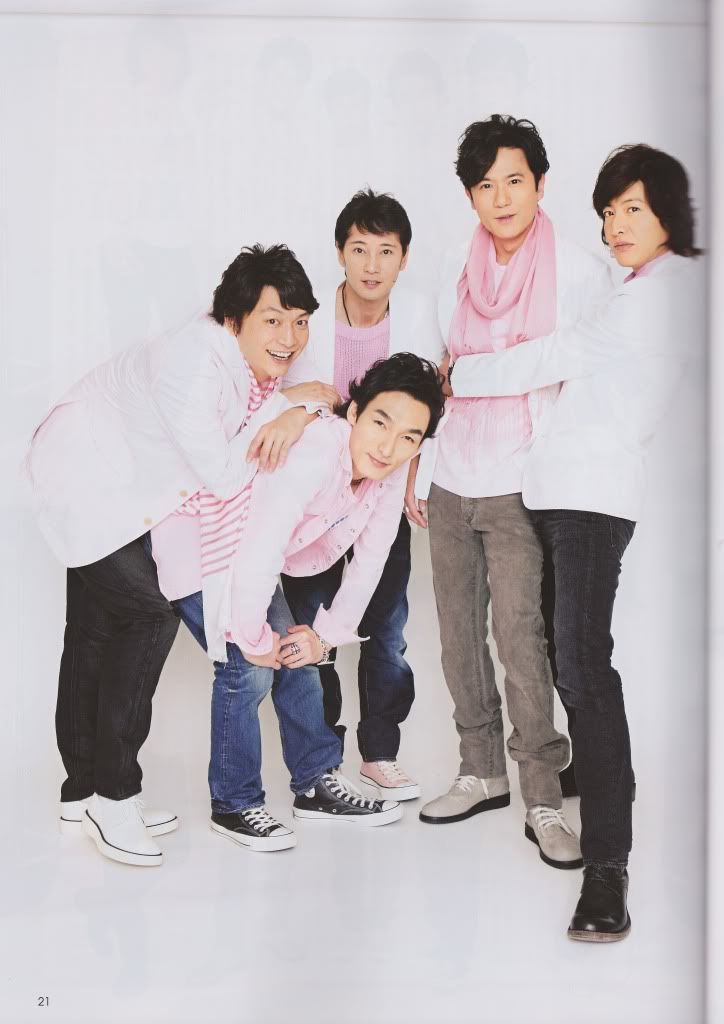 Part 2 to come....